Jack Petty Marketing & Promotions
You will benefit from our more than 750,000 promotional items, 50+ years of expertise and very personal customer service.
Call us today for your promotional planning and assistance: (504) 840-9985.
Please note that beginning January 1, 2016, there will be a 2.5% credit card processing fee added to all orders paid with a credit card. While we have absorbed these costs in the past, we can no longer do so and are forced to pass on charges going forward.

Featured Item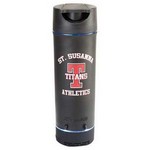 Zoom® Audio Flask
The Zoom® Audio Flask rocks out with an 18 oz. capacity to keep you hydrated. It boasts a removable, light-up, Bluetooth speaker that blasts your favorite soundtrack to keep you motivated and supports...
$35.98 - $45.33